First impressions of the Cost Engineering Automotive Europe Conference
THE POWER OF COST ENGINEERING
More than 100 highly respected experts for cost engineering of the global automotive industry followed the invitation of Hansonwade to the Maritim Hotel in Munich. OEMs like BMW, DAIMLER, FERRARI, VOLVO and SCANIA and more dicussed openly with suppliers of the supply chain from Tier 1 to Tier 4.
The event was well organized, not only because of the administration of the Hansonwade team, but also because of of the perfect work of sponsor FACTON presenting their solution Enterprise Product Costing. Rüdiger Stern - Vice President Professional Services at FACTON - guided the speakers and the audience through two days of insiring speeches, top networking possibilities and well organized breaks with good food.
Two more companies supported the event by proudly presenting their software solutions in the exhibition area. Exhibition Partner COSTDATA -  being in the market for more than 20 years - presented their solution for gaining cost transparency with software and benchmark data. Exclusive Partner APRIORI - specialized in product cost management - presented how improve product profits and time to market with their software.
One highlight was set with FACTON's contest of winning a scale model of the Back to the Future car Delorean. All experts were asked to estimate at FACTON's booth the final price of the model giving all boundary conditions like materials, shift model, quantities etc.. What a great idea! The winner Ola Olanders from Scania won with his estimation of 35,-€ vs. 34.80 € real costs on day two.
Another highlight was the invitation of FACTON for the Come-Together on day one after the presentations in a relaxed atmosphere at the exhibition area. All attendees followed the invitation and took the chance of networking with drinks and food.
Myself, representing COST ENGINEERING EXPERT and COST ENGINEERING ACADEMY opened day two with my speech COST ENGINEERING SECRETS - Achieving accurate Results quickly - and introducing our recently launched project COST ENGINEERING ACADEMY. The slides of the presentation will be hosted soon on our blog.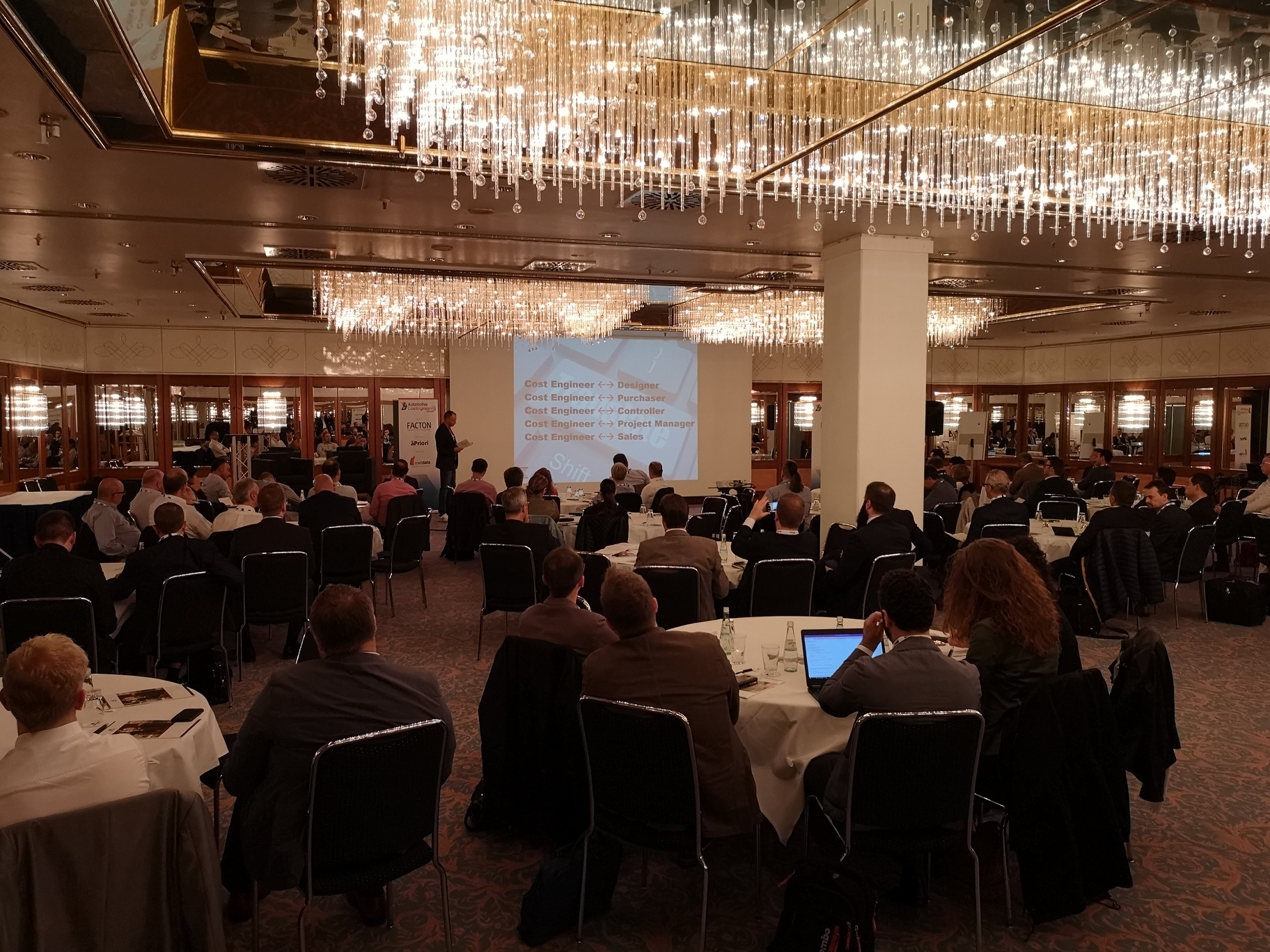 A common takeaway was that this conference was a unique one. Not only because of being the first Cost Engineering conference in Europe, but because of the open exchange of expert knowledge between OEM and Supply Chain. Not a single attendee doubted that Cost Engineering will be a MUST HAVE for the future success of companies in our industry. The power of Cost Engineering was noticed by all and the inspiring speeches gave fresh ideas. You will find frequently new information about the presentations of the speakers on this blog in the upcoming days and weeks.